After hearing several of his sermons over the years, I've named DeVon Franklin as my "faith coach." DeVon's first book, Produced by Faith, was right in time for me as I was in graduate school in one big season of getting to know God more and being stretched in my faith.
When he and his wife Meagan Good released The Wait last year, it was an empowering confirmation for me about waiting (abstinence 'til marriage) and waiting in general.
So when I had the chance to preview his latest book, The Hollywood Commandments, I was curious to see what it was about. I'm at a season in my life where I want more, I want to do more with my purpose, and expand my faith to the marketplace. Despite what the title suggests, this book is not just for those who aspire to work in entertainment, but "no matter your field, you  must recognize the value of what you do, who you are, and who you really aspire to be." I am so excited to share at least three things I've learned personally from reading this book so far: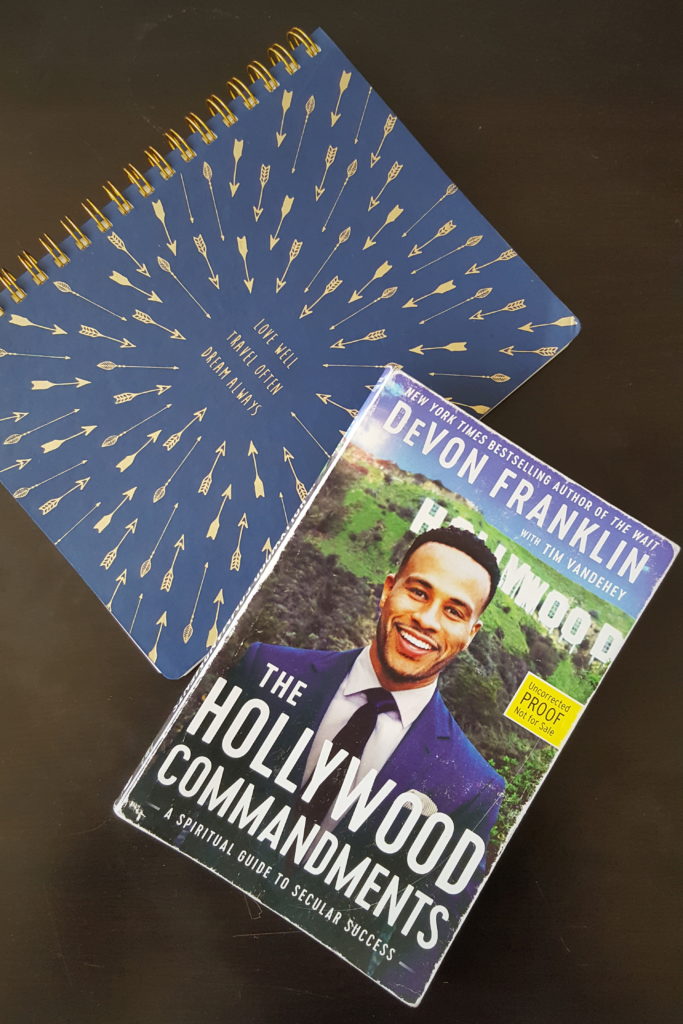 1. Make radical faith moves. 
Y'all, the introduction itself is so good. In this section he mentions radical faith which broke out my highlighter right away:
"This fear of being outside God's grace has been used too often to control and curtail bold, radical faith–faith that was designed to thrive in the secular world and to transform that world and that's in the process. I believe that it is why so many people are secretly unfulfilled especially people of faith."
This was a holy conviction for me to move forward into what I feel led to do and seek the Lord for it all. I got inspired to list some "radical faith moves" for my 2018 in my notebook in this photo.
So far I've been told that 2018 is my year, so I'm going to boldly go before God and request His will in the things I have in my heart to do and accomplish.
"Don't be afraid to go after every good thing God has put in your heart to pursue, even if it doesn't line up with other people's vision for you."
2. How to know what you're pursuing is of God.
Talent creates value for others and you'll notice these three signs if your talent or what you're doing is from God:
"You love doing it. God places that love in our hearts because He knows that the more we love what He asks us to do, the more likely we are to do it and excel at it."
"It stretches you. If nurturing this God-given ability pushes you to test yourself or leads you down career paths that you're not completely comfortable with, embrace it."
"It validates you. If what you're spending your time doing, whether it's your career or currently just a hobby, makes you feel like your days have meaning and that you're adding something important to the world, that's important validation."
That section in Chapter 2 was a confirmation for me in terms of writing, blogging, and social media work. I love what I do and it in turns helps others? Can't argue with that. What's cool is that God gives us these passions, such as me writing my book.
3. "If you're good at what you do, you're valuable."
I felt that Chapter 6 on negotiating was one of the best chapters so far (I'm almost done with the book). DeVon was wise enough to address believers like myself who have shied away from asking their worth in negotiations from business to even relationships. This chapter not only affirms the reader in knowing their value from God's perspective, but to be bold at the negotiating table.
"Most of us fear asking for what we want because we're afraid whomever we're negotiating with will say no, and we'll lose the job or opportunity. Too often we don't really value ourselves or what we do enough, so we worry that if we push back in any way, we'll be shown the door."
DeVon shares major keys in this chapter including how to get the best results from negotiating for yourself and feel like you haven't compromised in your faith or in what you have to offer. Let's win in 2018, I know I'm getting ready!
So, what are you ready to do in your career that hasn't happened yet? From entrepreneurship to climbing the corporate ladder, there are plenty of faith based lessons and practical tips in The Hollywood Commandments for people in every industry to apply. #TheHollywoodCommandments officially released today, grab your copy here.