I've noticed that there have been a number of speed dating events popping up in the city that I live in. Several my friends are interested in going, but I'm curious to know as how they, or anyone for that matter, will navigate discerning who's good for them and who's not.
Or perhaps you're dating someone or in the "talking stage" and you want to get to know what they're about without being led astray, praying to God "Father give me a sign! Show me who this person really is." Then you might run into this common scenario: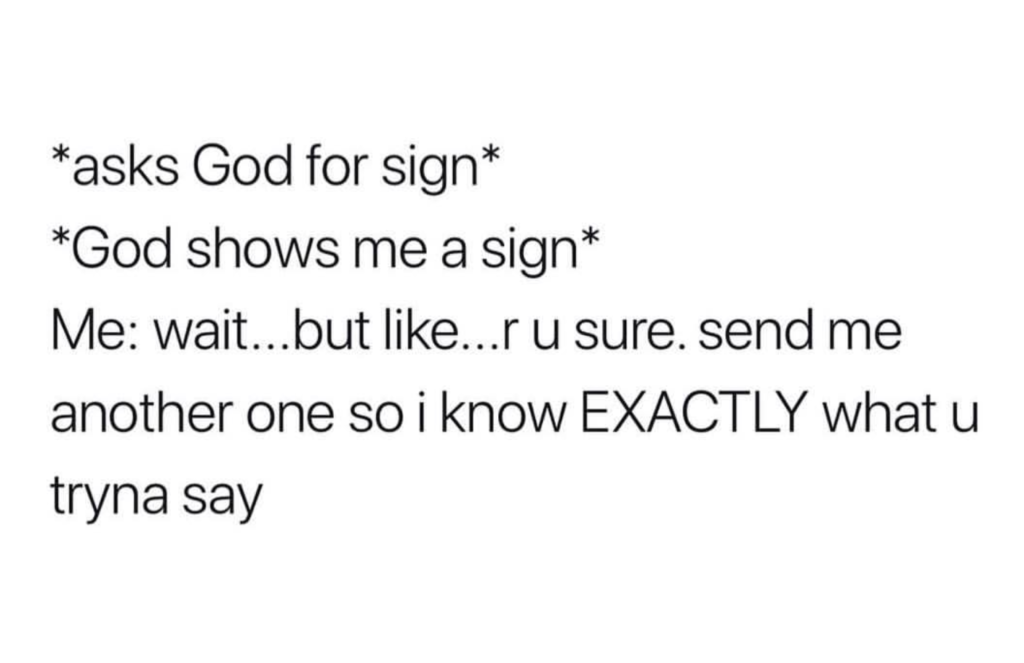 God is consistently speaking to us, and for some it comes through signs, dreams, confirmations, checks in your spirit or a "feeling" that you can't explain or shake. But if you're interested in someone and you haven't had any of these experiences, don't freak out or run at this point. Looking at the Word we can see that there three ways that we can discern who is for us and who is not in terms of a dating relationship. Of course you want to take this person to God first in prayer, but these signs are a helpful addition to confirm what the Lord is saying to you…without "saying" it.
Look for fruit
When it comes to personal relationships (dating and non-dating), you want to be a Class-A fruit inspector. Not everyone is for you and that's okay, but you should want to know and one of the best ways to do that spiritually is to check for fruit. Paul made it clear about what godly fruit is and what ungodly fruit is:
"The acts of the flesh are obvious: sexual immorality, impurity and debauchery; idolatry and witchcraft; hatred, discord, jealousy, fits of rage, selfish ambition, dissensions, factions and envy; drunkenness, orgies, and the like. I warn you, as I did before, that those who live like this will not inherit the kingdom of God. But the fruit of the Spirit is love, joy, peace, forbearance, kindness, goodness, faithfulness, gentleness and self-control. Against such things there is no law. Those who belong to Christ Jesus have crucified the flesh with its passions and desires." Galatians 5:19-14 NIV
That should help you find the signs you're looking for it when it comes to person you are dating. It does seem easy at first but when you get involved emotionally and you're attracted to the person physically, you may overlook things. With that in mind we need to have the standard that is presented in God's Word to give you the understanding.
For example ladies, if you meet a man who's attractive, has a good job, but he has bad habits that reflect fruit of the flesh like he's impatient and stubborn, not willing to learn, gets short tempered, you probably want to consider those to be a sign to back up and take your time, pray, or leave the guy alone completely. I don't care if he's fine and goes to church, a bad temper is not a good combination for a woman of God; same thing with men of God: the person's looks should not override their character. It's almost 2018 y'all, we really can't afford to settle for major character flaws because of appearances.
Test the spirit
The word says to test the spirit by the Spirit (1 John 4). How do we know how to test by the Spirit? Are they walking out what they're talking about? It may be hard to see right away, but if you pay attention to what they talk about, what they ask you, what they say about themselves, you will get an idea of what they are about. Don't be afraid to ask real questions!
"We attract our own kind," I heard from my godmother, and it's true if you look back on your previous relationships. The people you used to date, did you see certain things in them that you had in common spiritually? These could be good or bad commonalities. For instance people with low self esteem can attract people with low self esteem too, get together and have a toxic relationship. This is not always the case but it happens!
Which is why it's so important to seek the healing you may need regarding any struggles you're going through. You're going to have to face them at some point, why not work on them now so you can apprehend the issue and be a healthier version of yourself before you marry?
Don't get to know them alone
The word says that things are confirmed with two or three witnesses (2 Corinthians 13:1) so get someone else to check the fruit of this person that you're dating so you don't be led astray. Ideally this is someone you can trust, who is keen in observing and discerning people.
Also, you don't want to get to know anyone by yourself; that's how the enemy gets us–through isolation–where can be easily manipulated and persuaded in the wrong direction. Have someone you trust to take a look at the person you're talking to and make sure that you're going in the right direction and that you're not missing any of the signs that God may be trying to show you in this connection or relationship.
Listen, God loves you and He trusts you to make your own decisions. Making righteous decisions in relationships comes from our relationship with the Father and His Word. You may not hear God audibly every time, but you'll have the word in your heart to help you.
"Your word is a lamp to my feet and a light to my path." Psalm 119:105 AMP
Are we missing any other signs? Share your thoughts below!