Preparation can mean something different to everyone. Preparation can mean going back to school or learning a new skill for the level you want to reach. It could mean losing weight or addressing the past for healing. It could mean getting mentored for a season, or learning to let go of toxic people and behaviors.
Whatever it means to you, God is preparing you for what you're praying for as well as His purpose for your life. Queen Esther is a good example of this. Many of us think that Queen Esther's testimony is about a man but we can also see that it's about her purpose. Here are three things every single woman must have to help her prepare for her king and the greatness on her life:
Identity.
To be prepared for your king, ladies you have to know your identity, especially in the eyes of God. We have at least three scriptures that show us who we are to God: Romans 8:17, Galatians 4:7, and Proverbs 19:14.
All three confirm that we need a relationship with the Lord to truly walk in our identity. We are children of God, heirs, and are valuable in His sight. We can obtain more wisdom as we get into His word, making us an asset to our families, future spouse, and others.
Now these verses may contradict with what you've come to know over the years. The enemy uses people and situations to attack our identity and make us feel less than what God has proclaimed us to be before we were even born. In your preparation as a woman, ask God to show you who you are and hold onto that more than anything else.
Esther's name also has meaning that aligned with her identity and purpose. Her name Esther or Hadassah meant compassion and concern for the suffering of others. Her name spoke to who she is and what she became, an advocate and courageous person who saved her people the Jews from destruction. (Read more about Queen Esther in our series by Lynnette Easter)
What does your name mean? What is your identity?
Purpose.
You want to get an understanding of what you were created to do in life. Each season has a purpose, so allow God to show you what this season is purposed for.
Consider your purpose and then consider what you believe your marriage is purposed for.
Click To Tweet
Why do you want to get married? What is God's will for your marriage? This is important to think about because marriage is beyond the wedding day and newlywed years. It's an assignment, a new level, a different call to holiness.
Like Queen Esther were you born for such a time as this to save your people from destruction? Were you born to break generational curses in your family bloodline? Are you preparing for the purpose that God has on your life to use you greater than what you were thinking about?
In the past year I've considered the purpose of my future marriage and what I believe God will do through it. It's not just about me "finally" getting this desire of my heart, but about the generational curses being broken through obedience, through generations being impacted positively through the restoring power of God. Knowing that is enough for me not to settle and also to endure with confidence during the waiting process because of God's word.
"For whatever was written in earlier times was written for our instruction, so that through endurance and the encouragement of the Scriptures we might have hope and overflow with confidence in His promises." Romans 15:4
Legacy.
What will you leave behind? Through Queen Esther the Jewish people have the celebration of Purim in her honor. Her legacy was birthed through her obedience. What habits and gifts are you going to bring into your marriage and what legacy will you leave for the next generations (Proverbs 13:22)?
Whether you will have children or not, God will place young people and peers in your life to make an impact on, to help and be an example to. As stated in a previous post, consider the man you will choose to marry and build a life with. Does your king have his identity? Purpose and a God-given vision? Is he considering his legacy? You have all of that too, so you have the power of choice, queens, to select the best man that lines up with what you were called to do. Let the Lord lead you in that season when it comes.
Preparation through discovering your identity, purpose and legacy can be a journey all in itself. It's worth going on because this belongs to you and no one else. God sees it in you, but you have to endure and go through the process.
There will never be another "queen you," so embrace this season of preparation as you go after Christ Jesus.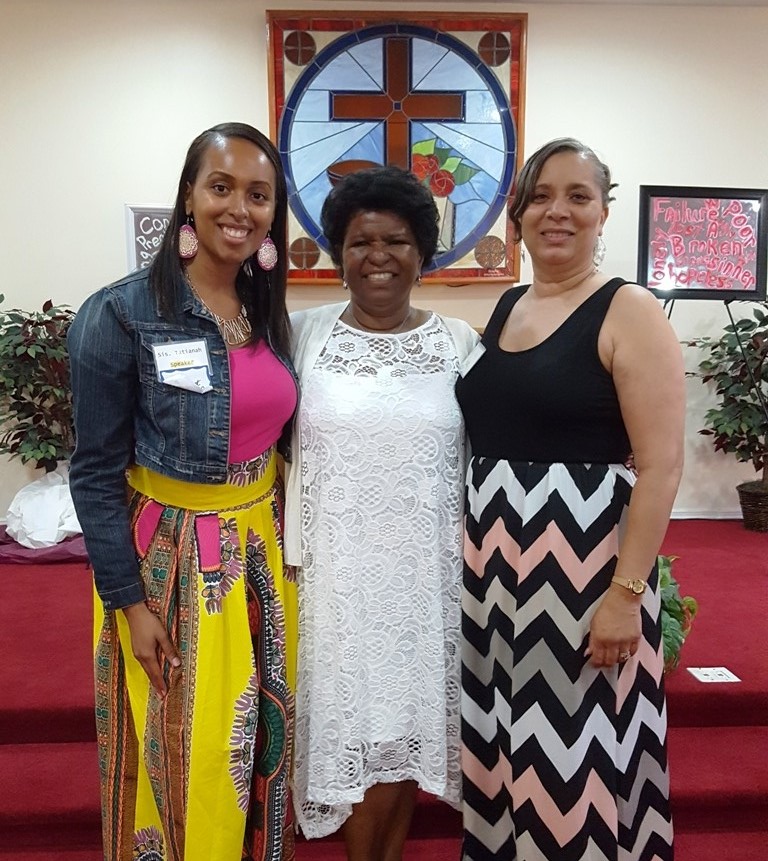 I had the privilege to be hosted by Sword of the Spirit Tabernacle in Brooklyn, New York. I spoke to the ladies in attendance on June 24th for their seminar, "Preparing for the King," held at Red Hook Ministries in Red Hook, Brooklyn. Although it was originally set up for the single women's ministry, it opened up to include married women as well!
Myself, Pastor Denise Jamison and Dr. Linda Anderson all got up to speak life into the women in attendance. I enjoyed my stay in NYC but that day of ministry was amazing. Father God was present and lives were touched. Thank you to my hosts and extended family in faith at Sword of the Spirit Tabernacle!