This post is part of the Protect Me series.
At the Black Women's Expo in Chicago this year was a great panel hosted by Six Brown Chicks on a very popular topic: Men! The panel included several men ranging from single to married to divorced to give a range of opinions on love and relationships.
There was plenty of exchange going on between the men and the 100+ women in attendance—I mean, we just wanted to know what our men think. Given that Black women are now the most educated group in the U.S., relationships still matter to us. Our image matters to us, and our security and protection matter to us as well. I did a brief poll on Twitter and Instagram and was met with an astounding "yes" to this question: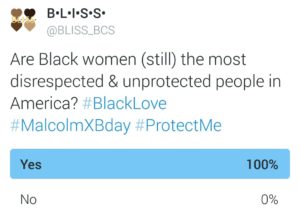 With this question in mind even months ago, I was able to ask the panel about protection:
Women, especially in the Black community are having a hard time accepting the Black men because they don't feel protected by our brothers. Can you talk about your experience about protecting Black women's image, how we're portrayed in the media and in public? Even if you're not dating her, married to her or related to her, how can we love each other better?
Man #1: "On my Facebook page every Sunday morning I post a 'sister of the week,' in which I take a collage of photos and profile her on my page. I've been doing this for three years and to date I am the only Black man that I know who does this. The reason why I did this was because I'd go on other pages and see the negativity: BM (Black men) calling BW (Black women) out of their names and vice versa. We are hurt and hurt people hurt people…damaged people damage."
"We've got to start building up. I am mentoring over 15 young men in their 20s because I'm tired of talking about the problem, I want to be part of the solution…every BM should be mentoring another young BM because we've got to start a rippling effect of this. But ladies it's also your responsibility to get 'Tameka and them' and tell her to stop doing the things that don't represent queen-like behavior…we've got to pull each other up and that's how we're gonna grow."
Man #2: "Not too long ago my wife worked in a place with a lot of Muslim men. She would come home and vent to me about certain things that were said to her. Some [coworkers] would say inappropriate things to her that you shouldn't say to anyone in a professional setting."
"She had to communicate what was going on in order for me to protect her."
"I went to her boss and told them that this is my wife, we have a family and you're going to correct this. If you don't correct it, then I will be forced to speak to the gentleman correctly and handle it as a man. The boss misinterpreted it as a threat. The best thing my wife had to do was resign. If nothing can be adjusted or come to an agreement, then you have to look to other means and measures, you have to believe in what's best for your family and not bend."
We have to as men protect you and you have to allow us to do that.
Click To Tweet
"You have to have a certain focus on what you expect out of your mate. We have to as men protect you and you have to allow us to do that. Now if you don't communicate that, it puts us in a position in which we cannot correct what is going on. We can't do anything because the lack of communication won't allow us to do what we're supposed to do."
Man #3: "I don't speak ill of Black women. Everything that I will ever be is because of the Black Woman. I'm educated because my mother paid for college with cash. I am a responsible mate because I have plenty of friends who are advising me against doing wrong. As far as protecting, I wrote a book on trying to protect women from ignorant behavior by men. I think that Black women are special and probably the best thing that ever happened to Black men. It's unfortunate that we don't see that…that it takes us a long time to see it. But everything I do is with that in mind, especially since I have a daughter."
"I think that Black women are special and probably the best thing that ever happened to Black men…"
They all shared different ways in which they protect the women in their lives, whether directly or indirectly. These are three positive examples of our men stepping up! What are your thoughts on Black men protecting Black women?