In the style of one of my favorite blogs, Very Smart Brothas, I'm sharing a list of things that you and I may have seen (or done) online that may be considered a "thirst trap." For context:
Thirst trap: Any statement or picture used to intentionally create attention or "thirst".
No, I'm not talking about the worldly, common examples of thirst traps like suggestive body poses and bedroom eyes. I'm talking about what slick single Christians try to get away with. I see you for your works, and I'm listing the most popular ones. This is a lighthearted post so *as a disclaimer* don't feel judged!
Without delay, here are six common thirst traps posted online by single Christians:
6. Cooking posts: men and women do this, sharing their meals and cooking skills on Snapchat or IG, or even worse, still images of them with a pot at the stove… #whatsinthepotboo? I post cooking photos because I'm a level 5 foodie, but I thought what if people were posting their meals to show that they are a catch in the kitchen? Be careful out here because we do have hungry singles who will date you just for a meal; both sexes do it!
5. Memes about the future: I see this a lot from women and some men too with memes showing a happy couple on their wedding day looking fabulous and them tagging a scripture or witty hashtags. This is low on the list because a lot of us dream about getting married, but when is the last time you saw a marriage meme when it's a few years in? The memes with weddings seem like thirst traps because they sell an ideal of what it would be like to marry the person who posted it. Wedding memes sell a fantasy, not necessarily a reality.
Wedding memes sell a fantasy, not necessarily a reality.
Click To Tweet
4. Bible verses on being a quality mate: one example of this is when women post that they're Proverbs 31 women and the attributes that are in that particular chapter in the book of Proverbs. There's a thin line between confidence in who you are and bragging for likes. A Proverbs 31 woman isn't trying to prove to everyone that she's a Proverbs 31 woman in order to be seen by a man or in the hopes of being found when the word says that he that finds a wife finds a good thing and obtains mercy from the Lord (Proverbs 18:22). Note that the Proverbs 31 woman didn't say all those qualities about herself in that chapter, it was observed of her.
The Proverbs 31 woman didn't say all those qualities about herself in that chapter, it was observed of her. 
3. The random yet rare selfie: you're just minding your business on your timeline and then you see someone who is mildly attractive and saved post a photo of themselves and boy don't they clean up nice! The weekends and Sundays are the best time to see these traps by the Christian single. Again we are free to look good and share photos of ourselves, but if it's to get attention from certain people, it just may be a thirst trap.
2. Long statuses on godly dating: these kind of posts are not always posted with the intent to glorify God. Some people just wanna let it be known that they are saved, sexy and single. There's nothing wrong with being those things, but sometimes these posts are to let folks out here know they're single since people like me hide the relationship status section on our profile, haha.
1. Photos with kids that aren't yours: this is number one because a lot of Christian singles do it. You're interested in someone and see their profile and may question who's kid is in this photo with them. Just to confirm if they're a parent or not you explore to find out that it's a niece, nephew or god-child. They just love the kids, awww. It's a good indication that they would be a good parent one day, and that caught your attention? Exactly.
Now, some of this may not apply to you. Some of these you may have seen happen on your own timeline. But not matter who you are, you must remember this one thing: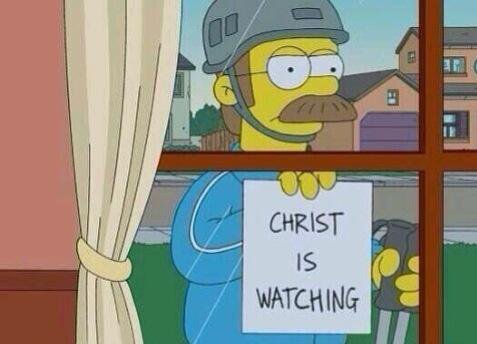 Nah, but for real tho, He is.
Remember this other thing: Be mindful what you post. What's your intention behind what you publish?
Let's not be like the world, but be the light in it.
Click To Tweet
Have you noticed these thirst traps? Do you know of any other ones to add?