Hey everyone!
I'm so excited to share that I was a guest again on The Right to R.E.A.L. Love podcast this month and the first part of our discussion is now live! I talked with my brother in Christ and media, host Jay Mayo, on overcoming anxiety of being single (unmarried) after age 30. In this part of the episode, we dug in specifically about how men and women are affected by anxiety of being single and how we express it.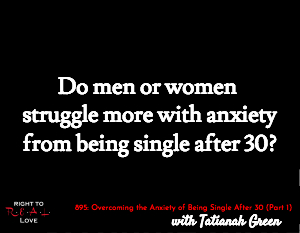 Do men or women struggle more with anxiety from being single after 30?
"I think we both struggle with it, but we both struggle with it in different ways. Men and women are equal in some ways but when it comes to our emotions and handling our emotions like anxiety, we're different…"
We have some other valuable resources including recommended books for Christian singles as well as scriptures mentioned in this episode!
Be sure to follow The Right to R.E.A.L. Love Radio on Twitter and subscribe to his amazing podcast on iTunes!
Click to Tweet: Do men or women struggle more with anxiety from being single after 30? Listen to us talk about it on the @RTRLRadio podcast: http://righttoreallove.com/895
Also I'm happy to announce that I've partnered with Jay and The Right to R.E.A.L. Love Radio to do a book giveaway for my book, Journey to 30: A Single Woman's Guide to Living Unapologetically Without Deadlines! You have until December 31st to enter to win a copy of this book to help you embrace aging with grace and removing the anxieties about being single in this time of your life. Free books? Yesss! It's super easy to enter, start here