Have you ever tried something or decided not to try something based on someone else's opinion?
For instance, you may go to a certain church or denomination because your family grew up going to that one. Or you joined a certain organization, career field or trade because that's what a family member did and was successful in. We even reconsider movie choices if someone we know and trust saw it before us and didn't like it. We all have reviews and opinions, and often times we imply them on others because "we know best" in that situation and vice versa.
Sometimes we take the influence or preference of someone close to us to heart to the point that it may prevent us from making an important life decision or trying something simple and new.
When it comes to relationships can we really tell who's for us or who's giving their review or preference on love based off of their personal experiences?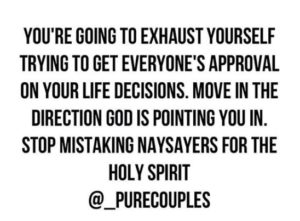 There's a difference between wisdom from personal experience and emotional bias from personal experience. For instance when I would go around women who may have been divorced or cheated on they would give me the same reviews: that men are dogs, that they cheat, that they're no good. However these would be the same women who asked me about my relationships and when I was going to get married! Ummm, ma'am, how can I trust you for advice when you're too negative to give unbiased advice?
Truthfully I was also this person at one point.
I was hard on men for a long time because of my own unresolved issues with abandonment and growing up in a dysfunctional home when it came to romantic relationships. I had lack of trust and assumed the worst in men. Now I have eased up a lot and ask God for wisdom when my friends or family bring their dates or mates around. I don't offer anything unless they ask.
Often times I'm hard on these potential boos because I know the person they are seeing and want the very best for them. But God's wisdom shows that there are two people to consider in that connection, and I have to let God use me when necessary to speak to them and allow His Spirit to reach them on their own, just like He did in my life.
So we need to sincerely consider in our single, dating and married seasons who's giving us good advice for relationships and who's giving us biased advice.
Some further questions to consider:
What is the source(s) of your preferences?
Who is steering and influencing your choices in a mate?
How do you "hear" God in your everyday walk? Dreams, messages, impressions on the heart, etc.?
Is there someone you can trust to give you unbiased godly advice in this area?
At the end of the day you have to live with this person you marry, not anyone else, so the choice is ultimately yours. However it's up to us to use discernment and filter out the good advice from the not so good. Some people in your life truly mean well, but God's say should and always be the final authority.
Who do you go to for relationship advice?