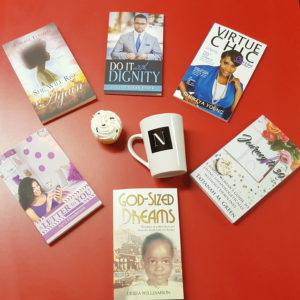 On November 18, 2017 I met up with some new and familiar faces within my publisher's company for the first annual It's Always November Meet and Greet at Open Books in Chicago's West Loop.
Learn more about November Media Publishing
If you are looking for books for yourself or for loved ones for the Christmas holiday or to jump start your 2018, here are recommendations from the authors who were at the event: (Books listed clockwise as pictured)
Motivation: Do It With Dignity by Julius X. Van Hook
This book is a 30 day motivational guide to help the reader live life unapologetically and let go of unnecessary factors that would hold us back. It's a quick but stirring read for men and women looking for daily affirmation.
Empowerment: Virtue Chic by Nikeya Young
This book was published by inspirational fashionista Nikeya Young of Virtue Chic. The magazine style cover along with the empowering message for women of faith drew me in immediately. Nikeya talks about Biblical womanhood, modesty, style, grace, and much more. This would ideally be for college age women and up.
For the single ladies: Journey to 30 by Tatianah M. Green
Yep, your favorite singles blogger is an author too! Journey to 30: A Single Woman's Guide to Living Unapologetically Without Deadlines is geared towards Millennial women. With all the pressures from society, family and even ourselves to have it "all together" by a certain age, the testimonies of the 10 women I interviewed in this book are proof that your journey is not only personal to you, but it's led by the Lord. Recommended for late teens through late 30's for women (even men).
Inspiration: God Sized Dreams by Debra Williamson
Debra Williamson shares in this memoir her life experiences as a little Black girl on the South Side of Chicago. You'll get her accounts on growing up, developing boldness and confidence, knowing her worth as a woman, and the trials that she had to endure through to get to where she is today. It's a recommendation for anyone who enjoys learning how others made it, testimonies and wisdom from people of faith.
Mentoring: A Letter to You by April Henderson
Ever wanted to go back and tell your younger self a message of encouragement? That's exactly what April captures in this book directed towards teen girls. She doesn't hold back in addressing the pressures and issues that our girls today are facing. Each letter cuts past the fluff and speaks to the reader in a way that would benefit growth and conversation. If you have a teen in your life, definitely consider this work.
Fiction: She Will Rise Again by Cheryl Fonteh
I'm so proud of my Pinky Promise sister Cheryl for publishing her first book this year all while in med school. She wanted to create a faith based fiction book that showcases the beauties of African culture and more. It's recommended for women of all ages.
Drama: Emotionally Discombobulated series by Tiheasha Beasley
Founder of November Media Publishing Tiheasha Beasley started her journey in publishing writing her own series of books. So far she has two installments of her Emotionally Discombobulated series (Forsaken and Affliction) of a woman facing a difficult time in her personal life with plenty of drama. I don't read a lot of fiction books, but Afflicted was a page turner to me. I look forward to the next book in the series! This one is for women who like fiction novels and book clubs.
Honorable mentions of books that were represented in the event last month include Boss Mom Life, Empower, and much more in the November Media bookstore. What books are you looking for this season? I have plenty of recommendations, don't be afraid to ask via Twitter or Instagram!