When I saw the first episode of the #BlackLoveDoc it stuck in my mind for days. It made me think: are our men single or not actively seeking to marry because of this crippling fear of responsibility?
Honestly, we all have to face "Sponserbilleries" (Nod to all my Rugrats fans, lol).
No one really wants to deal with responsibilities because they come with work and accountability. We are not only in charge of ourselves, but we are held accountable for our decisions. Add a spouse and children to the mix and that can be overwhelming for some of us.
One major example of the fear of responsibility of marriage is the financial area: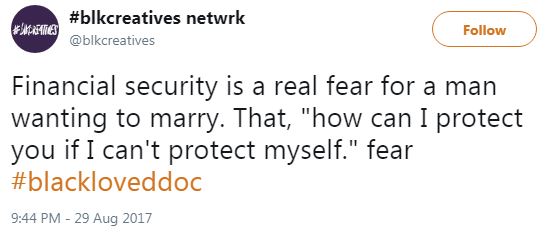 Traditionally, the man is the head of the household and thus provides financially for the house and family. It was common decades ago for a one-income household with the wife serving at the home. That changed over time as the number of single family homes grew and more women fought to work outside of the home.
We now see it as acceptable for both spouses to work outside of the home to provide for the household. There are still those who prefer to have the traditional route, and there's nothing wrong with that. But regardless of the arrangement, there still seems to be an expectation on the man to be the provider first.
Cory Hardrict, actor and husband to Tia Mowry-Hardrict, spoke on his fear to marry because he felt he wasn't financially ready to propose in "Black Love" on OWN. What set him apart from other men in the world was his faith:
"I got faith, and that's one thing I never waiver, is my faith and my belief in myself, God, my mother…I'm gonna step up and make a move, and God's gonna take care of us. I didn't have a lot of money, but I got a really nice ring and I said, 'You know what? I'm gonna make this happen.' We're gonna make this work."
Another area is being emotionally available, mature and responsible to care for another person as well as yourself. This was addressed in our Book of the Month, The Mingling of Souls:
"Men, in the greatest fight of your life, the daily dying to yourself in the rejection of passivity and the acceptance of responsibility, you will need to rely totally on the grace of God in Christ."

"Biblically speaking, husbands should be the primary pursuer in the relationship, but wives bear responsibility to tend to their husbands in some initiating ways too."
We can be afraid of the responsibility to take care of someone else and meet their needs because we didn't see that growing up. Perhaps Black men who haven't grown up in homes with a father or a strong male presence in the home have experienced more hurdles to overcome regarding their confidence to "be there" and provide for a spouse and family. This makes sense because if you haven't seen something growing up you would have to be more intentional about learning how to do the right thing for what you want.
The same thing goes with Black women. I've lived that experience of not having my father in the home to consistently show me how a man is supposed to treat me and be confident in my identity and what to accept/not accept from male suitors.
In these instances we have to give grace to ourselves and to each other, yet encourage each other to get the healing and wisdom we need so that we can leave the past behind and be the men and women we desire to be in romantic relationships.
When you don't have confidence in your identity you will look for identity in everything else. You won't want to be responsible for yourself or others because ultimately you're serving yourself. DeVon Franklin spoke to this from a man's perspective in "Black Love":
"What we really need is love, what we really need is commitment, what we really need is accountability and when we have that in marriage with the right woman, when we have the right commitment, then we can go do anything. As a single man, I was good. But as a married man, I'm great, and it's because of marriage."
Looking at marriage as just about the responsibilities can take away the benefits that marriage provides for your health, spirit and overall well being. Don't let fear or the call to the responsibility of being a spouse keep you from pursuing marriage or desiring marriage when it's in God.
What are your thoughts on fear of responsibility keeping singles from going forward in marriage?