The holidays are here again and this year I'm doing something different with the B.L.I.S.S. Holiday Gift Guide. This year I'm sharing gift ideas from minority owned businesses that I have supported or have been gifted throughout the year. To see the businesses' stores, click the image and be sure to support them by following them on Instagram (link in the business name).

Okeze Bracelets
Accessories: Men, Women
Okeze bracelets feature West African jewelry for men and women. I chose the Obi bracelet, which I can wear for casual looks or to stack with other bracelets when I'm feeling fashionable. Okeze Bracelets has blessed us this year with a 10% discount on all orders. Use the code: BLISS to get your discount!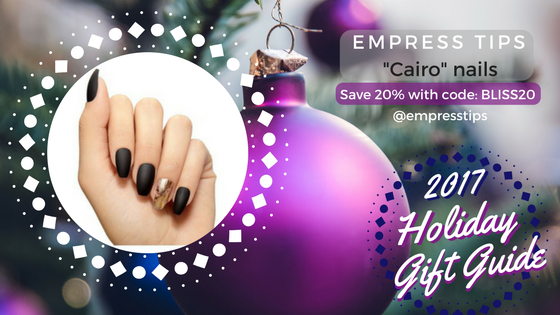 Empress Tips
Beauty: Women
I found Empress tips on Instagram this year and fell in love with their press on nails. These are super easy to use and the nail glue doesn't harm your nail like acrylic and gel nail sets. The sets are cute, affordable and if you apply them right, they can last up to two weeks. It was hard for me to part with my iridescent stiletto nails that I wore for my birthday this year.
I can't wait to rock the Cairo set for the holidays! Ladies, you don't want to miss this deal: Empress is giving customers 20% off of your nail sets! Just use the code: BLISS20 to receive your discount. The code doesn't expire, so you can get nails for your next holiday party or special occasion.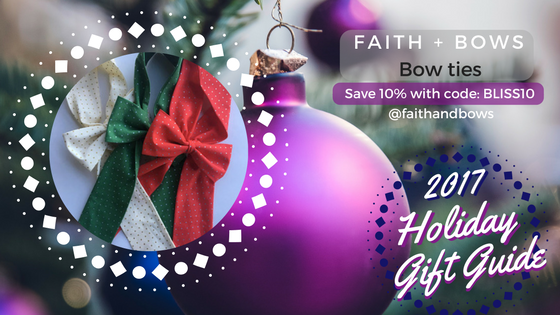 Faith + Bows
Accessories: Women
I saw these beautiful and bold bows at the Pinky Promise Conference in July and fell in love with the necktie bow style. It's chic and different from your usual accessory, which makes it a perfect gift for yourself or your stylish friends. Owner and designer Drew Tipton has formal to casual styles for all the parties this year, including these holiday styles which premiered today!
BLISS readers can save 10% off their order from 11/17-11/19 with code: BLISS10. You can purchase the bows and faith based jewelry on her Etsy page at: Shop Faith + Bows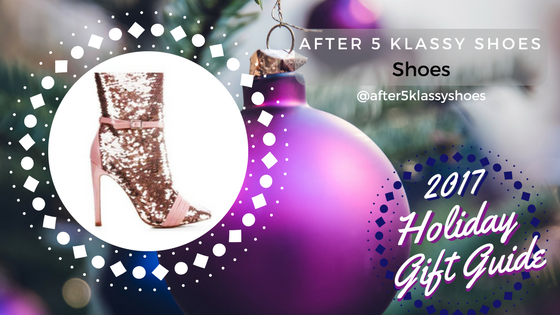 After 5 Klassy Shoes
Accessories: Women
I love a nice pair of shoes, especially if they are unique. That's exactly what you'll find at local shoe boutique owner After 5 Klassy Shoes. I wore a pair of black lacey booties to the Woman of Purpose Conference in Dallas, TX and received so many compliments. There are boots, heels, booties and they are getting more for the holiday season!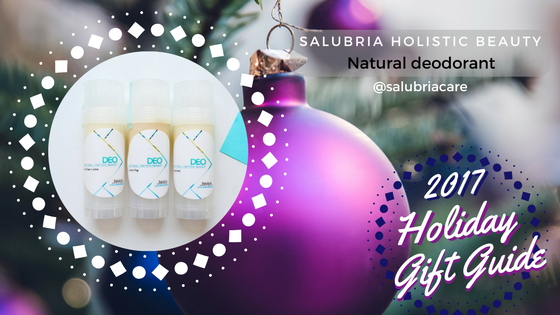 Salubria Holistic Beauty
Beauty: Men, Women
When it comes to deodorant, I'm team natural! I met Arica of Salubria Care last year and have supported her business ever since. She's all for natural and holistic ingredients in her hair care, body and beauty products. One item that I often get is the tea tree and lime natural deodorant, also available in London Fog, which smells like beautiful cologne. There are plenty of natural products for your everyday needs for men and women, as well as gift sets that ship out right away from Salubriacare.com.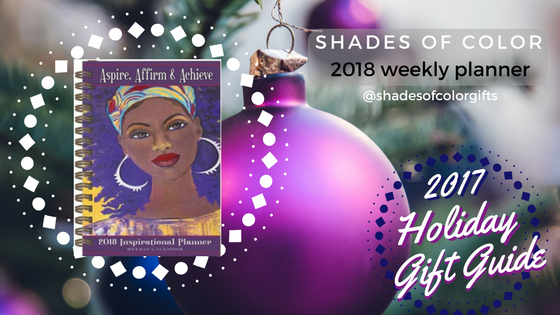 Shades of Color Weekly Planner
Stationary: Women
I've loved planners since I was a kid to help keep my notes and upcoming events organized. When I saw the Shades of Color planners at the Black Women's Expo, I made a mental note not to purchase another planner but from this Black owned business. It's not just an inspirational weekly planner, it has sections for self care tips, scriptures, coloring pages, affirmations and goal sheets. This planner had way more than I expected. I will be getting my 2018 copy from them soon!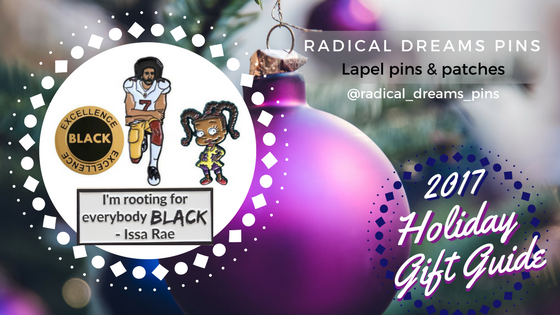 Radical Dreams Pins
Accessories: Men, Women
Radical Dreams Pins are some of my favorite spots online to get pins and patches. I've purchased a few items from them including pins featuring Colin Kaepernick, Shirley Chisholm, and now the "I'm rooting for everybody Black" quote by Insecure star Issa Rae. Don't know which ones to pick? I get it! They made their own Holiday Gift Guide for recommendations. The goal of Radical Dreams Pins is to pay honor to heroes in the Black community, and a portion of sales goes to community organizations.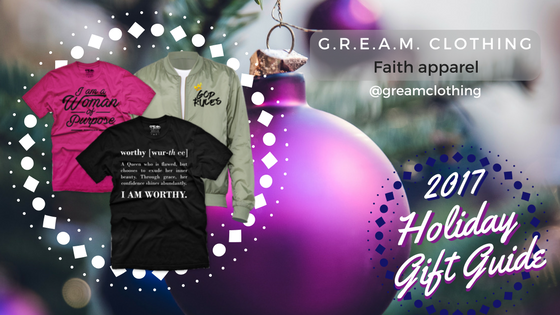 G.R.E.A.M. Clothing
Apparel: Men, Women
I loved G.R.E.A.M.'s message in their "Worthy" tee that I had to wear it for my birthday this year. G.R.E.A.M. (God Rules Everything Around Me) has bomber jackets, tees, long sleeves and hats for men and women for a stylish look that doesn't compromise on faith.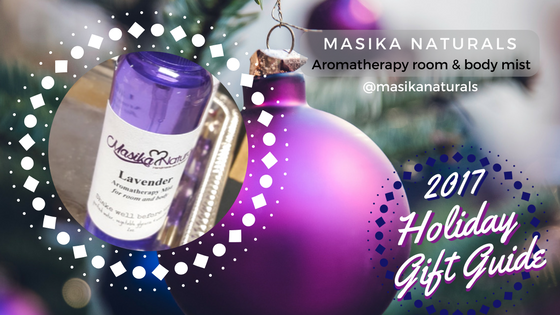 Masika Naturals
Beauty: Men, Women
Masika Naturals is made with love and plenty of fragrance. Owner and product developer Masika Pointer creates body butters, body scrubs, soaps and more that make great gifts especially for these hard winter months. Take care of your skin with some creamy and fragrant body butter. I tried the Cashmere scent and I love it! A close second is the coconut lime.
What I excited to try for my room was the aromatherapy room and body mist. You can use this product for your home and as a body mist. I primarily use the calming lavender scent to refresh my bed sheets. These products come in different sizes for stocking stuffers and thank you gifts to people over the holidays.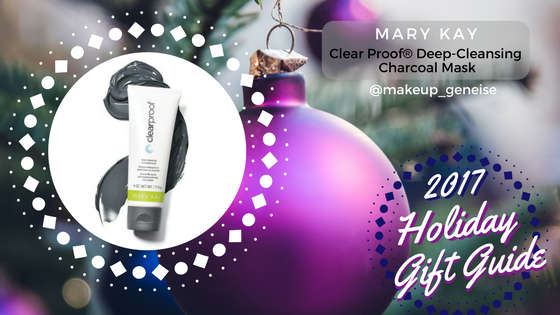 Mary Kay (Rep Andrea Grant)
Beauty: Women
Mary Kay has been around for some time now, but I what I do like about them is their willingness to evolve to accommodate the demands of the beauty industry. One of the trends has been facial masks. I'd recommend trying Mary Kay's Clear Proof Deep-Cleansing Charcoal Mask. The mask deep cleans pores and is clinically shown to absorb excess oil and reduce shine. I have combination skin so this works out for me!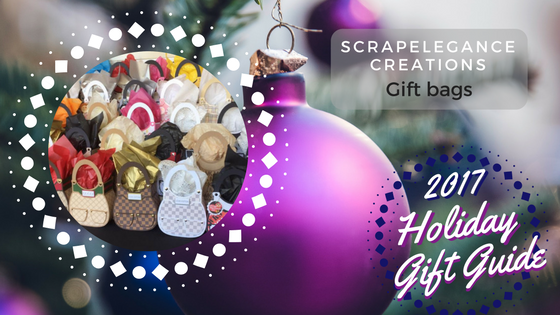 ScrapElegance Creations
Gift bags: Women
Now that you've seen these great gift ideas, you'll need a nice bag to put them in! I saw these handmade gift bags in person in October at a crafts fair and fell in love with the idea of gift "handbags." Designer Katryce Townsend makes custom orders and also has patterns for all of the holidays and even special designs that resemble the high end designer handbags. It's a creative way to gift and will leave a smile on your family or friends' faces.
Be sure to shop and support these businesses soon for your holiday gifts for Thanksgiving, Christmas, Kwanzaa and more. Some of the discount codes have time limits, so save more while you can! Thank you for being part of the B.L.I.S.S. family this year! Peace and blessings to you this season, in Jesus' name!