Father wounds aka "daddy issues" are detrimental to our relationships. I'll share a recent testimony:
I was at the Redefined Tour when they came to Chicago and during the worship night I was singing to God several roles He has played in my life. God has been my protector, provider, keeper and Father. As I stayed on those roles the Holy Spirit moved on me in a way I never felt before. I had to release a lot of tears as God's Spirit ministered to mine.
I had a fear that I wasn't even aware of that God alerted me to. I was afraid that my future husband would not love me like I deserve. It was a remnant of my father wounds from my natural dad. I had to forgive my dad again for not being emotionally present for me. I had to let go of the past because my father is not perfect, he did what he could to be there for me before and after my parents divorced.
I'm grateful that the Lord is working on any remains of father wounds I have including fear of being loved properly by a man.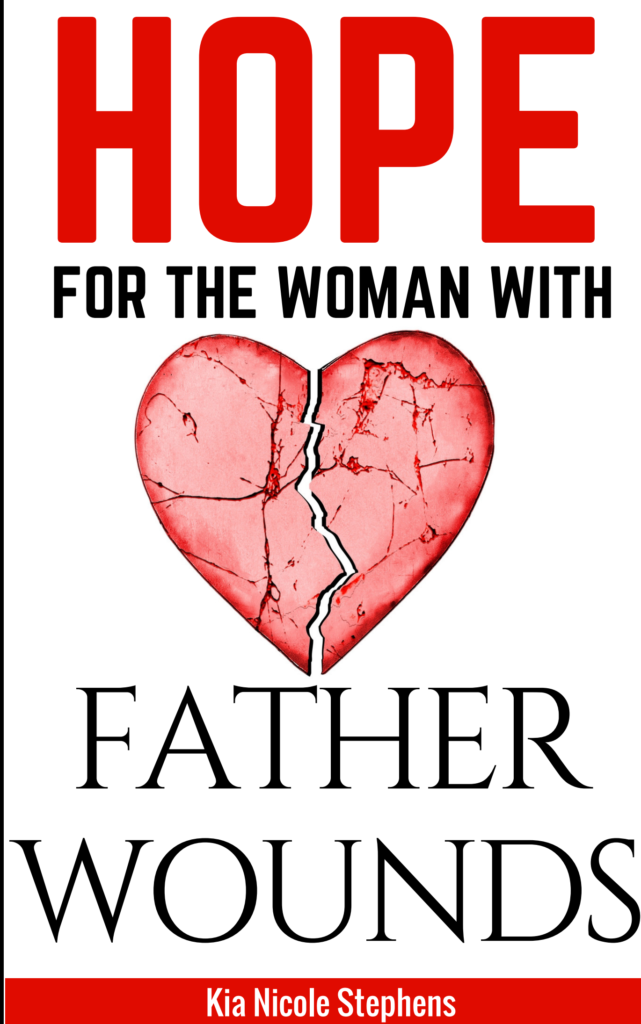 This is what leads to the necessary book I read just this week by Kia N. Stephens of The Father Swap Blog. Entitled Hope for the Woman with Father Wounds, is a free e-book available for download.
"Whether wounded because of a physically or emotionally absent dad, women carry a wound that demands attention. Despite the type of biological dad you have or had, together, we can learn to exchange our father wounds for the love of God the father."
It's often noted that Millennials in a large part are not getting married at the same rate or the same age as previous generations for several reasons. Sure we want to blame the work environment or the economic environment or even the culture, but I would suggest that it has something to do with the lack of fathers in the lives of many Millennials.
"With the increasing number of premarital births and a continuing high divorce rate, the proportion of children living with just one parent rose from 9.1% in 1960 to 20.7% in 2012. Currently, 55.1% of all black children, 31.1% of all Hispanic children, and 20.7% of all white children are living in single-parent homes." Source: U.S. Census Bureau. "Living Arrangements of Children Under 18 Years Old: 1960 to Present". U.S.  Census Bureau July 1, 2012.
People who grow up with a father in the home, a good father anyway, can lead to positive self-esteem, sense of identity, and other positive attributes that lead to a successful fulfilling life. It's not to say that you cannot achieve these things without a father or without parents, but that two-parent household creating a solid foundation for children to grow is the will of God. So if we want to be in God's will we have to have an understanding of God's view of marriage and the role of the husband, the father, the wife, the mother in the relationship.
Another part in our growth and preparation is to address any issues we may have specifically with our father. Kia Stephens shares several reasons why we should in her book:
"Honestly, outside of God there is no logical reason we should be on the other side of a 14 year marriage. Even though God uniquely fashioned a Jesus-Fix-My- Life-Intervention-Program prior to us saying I do, there were many blind spots I did not notice until I was swimming in the deep end of the pool. After conversing with hindsight I wish I had taken the steps below before I got hitched:"
Keenly identify the needs that went unmet in my childhood.
Practice going to God to get those needs met.
Recognize and believe wholeheartedly that God defines me.
Allow God's word to make me whole and complete first.
Hope for the Woman with Father Wounds is a short but necessary read that addresses why women need to talk about father wounds, why God allows them, moving forward as a woman of God, and Kia's own story. If you are unmarried but desire to be, address your wounds and be healed because Father God is available to walk us all through the process.
"God alone is the healing balm for the wound, wholeness for the broken, and abundance for the lack in the life of a fatherless daughter. God loves me infinitely. I cannot predicate His love for me on what He does or does not do." –Kia N. Stephens